It was an off-day yesterday (for the hitters), so let's take a moment and update the 2011 roster and payroll projection. Notes on the projection can be found after the table…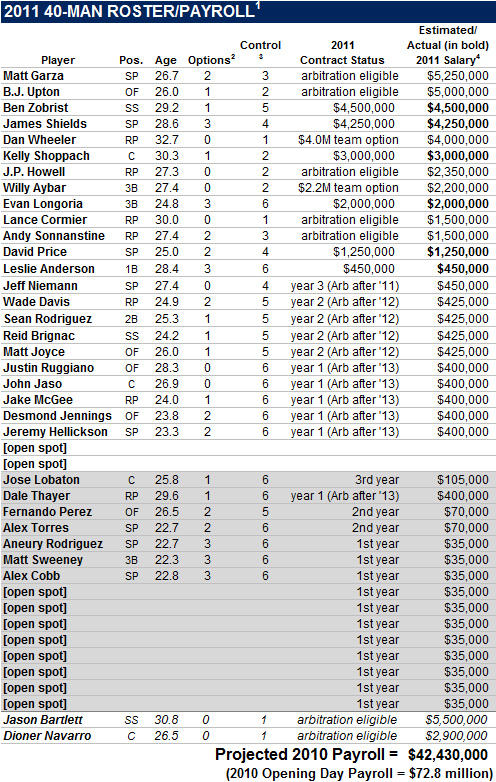 Notes on the 40-man projection…
A legend for the table can be found below after the jump.
This projection is based on players currently in the organization and assumes that no free agents will be re-signed. That list includes Carl Crawford, Rafael Soriano, Carlos Pena, Grant Balfour, Pat Burrell, Gabe Kapler, Joaquin Benoit, Randy Choate and Chad Qualls.
Here is what the 25-man roster would look like based on this projection.
Players in white would be on the 25-man roster. Players in grey would be on the 40-man roster but in the minors.
Salaries for players eligible for arbitration are based on salaries for comparable players in recent years. Those numbers should be in the ballpark but could fluctuate up or down depending on how well those players perform this season.
Justin Ruggiano will be out of minor league options.
Dioner Navarro and Jason Bartlett would still be under team control but we project both to be gone next season either by trade or by declining to offer arbitration.
Stuart Sternberg said the 2011 payroll will be under $60 million. As we can see the Rays are only committed to $42 million. So there is still some flexibility to possibly re-sign a player like Carlos Pena or Joaquin Benoit.
The Rays could save another $2.5 million by declining the option on Dan Wheeler's contract ($1M buyout) and replacing him with a league minimum player. They can also save a little if they buyout Willy Aybar's option and take him to arbitration instead.
The more we think about it, we think there is a good chance the Rays keep all 6 starting pitchers. If somebody is traded, look for either James Shields or Matt Garza to be moved.
The last three names on the list (Aneury Rodriguez, Matt Sweeney, Alex Cobb) are projected to be additions to the 40-man roster to avoid the Rule 5 draft. Anybody you think we overlooked?
1) Based only on players currently within the organization and will be updated when trades are consumated and free agents are signed.
(2) Once a player is added to the 40-man roster, the team can 'option' the player to the minors 3 times. A team cannot be charged with using more than one option in a given season even if a player is demoted to the minors several times that year. An option is not used if a player is added to the 40-man roster midseason unless he is sent back to the minors at some point. An option is only used if a player spends more than 20 days in the minors while on the 40-man roster. A player with more than 5 years experience can refuse a minor league assignment, so we list those players as having no options.
(3) Years remaining under control of franchise before free agency eligibility. A player can become a free agent after 6 years of Major League service time.
(4) First, second and third year players will have their salaries determined by the team, but will fall close to the major league minimum which is $400K in '10. Minor leaguers on the 40-man for the first time make $33,750 and second-year players (or players with at least 1 day of major league experience) make twice that amount. We are not including signing bonuses or incentives.
* Players with at least 3 years since their big league debut. These players must clear optional waivers in order to be demoted to the minors even if they have options remaining.
Likes

(

0

)
Dislikes

(

0

)