The 2008 25-man roster prediction is based only on players currently within the organization and will be updated when trades are consummated and free agents are signed.
Not a lot has happened in recent weeks concerning the Tampa Bay Rays 2008 25-man roster and regular lineup. The only significant addition was Mike DiFelice who, if the season started today, would most likely be the back-up catcher. The team would still like to make a few more minor additions, including a left-handed reliever, a left-handed hitting utility infielder, and possibly an upgrade over DiFelice.
If the season started today, this is how we feel the 25-man roster and most-days lineup would shake-out. Notes on specific positions can be found below…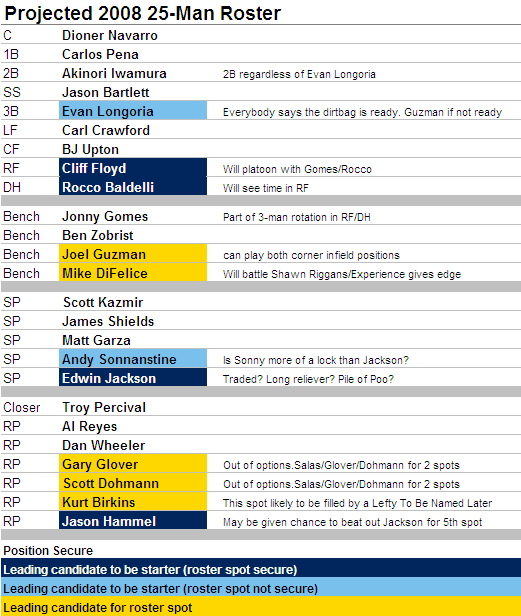 A FEW NOTES ON THE 40-MAN ROSTER…

Some seem to think the Rays are leaning towards starting

Evan Longoria

in AAA. We have already made our feelings known on this matter. Our guess is that the team is trying to deflect some off-season pressure and will still give The Dirtbag the nod on opening day.
We don't see any threats to

Ben Zobrist

for super-utility guy. As it stands he is the only available left handed bat off the bench (he is a switch-hitter).
Not sure team is sold on

Joel Guzman

on the bench. Team may prefer a cheap veteran free agent with good positional flexibility. Left-handed is a bonus. But Guzman has an edge as he can play both corner positions and the outfield.

Mike DiFelice

is only a non-roster invitee at this point, but it is no secret the team wants a veteran signal-caller to back-up

Dioner Navarro

, and there are no other options in -house.
With talk of trading

Edwin Jackson

(not likely) and rumors of a move to the bullpen (possible) it may be that

Andy Sonnanstine

has a firmer grasp on his spot in the rotation. The final spot may come down to a battle between Jackson and

Jason Hammel

. Both are out options, so the loser moves to the bullpen to be a long-reliever.
Still waiting for the Rays to sign a lefty reliever. Until then,

Kurt Birkins

is the guy, although a strong spring by

Jeff Ridgway

would make the Rays think twice.
Final two spot in the bullpen will be a battle between

Gary Glover

,

Scott Dohmann

and

Juan Salas

. Salas is the only one with an option left. Glover was actually pretty decent in 2007 and Dohmann was strong down the stretch. Maddon always speaks highly of Glover and Dohmann and rarely mentions Salas. Of course, Maddon always spoke highly of

Jae Seo

also. Our best guess is that Glover is pretty close to being a lock, with the final spot coming down to Dohmann and Salas. Flip a coin at this point.
Likes

(

0

)
Dislikes

(

0

)