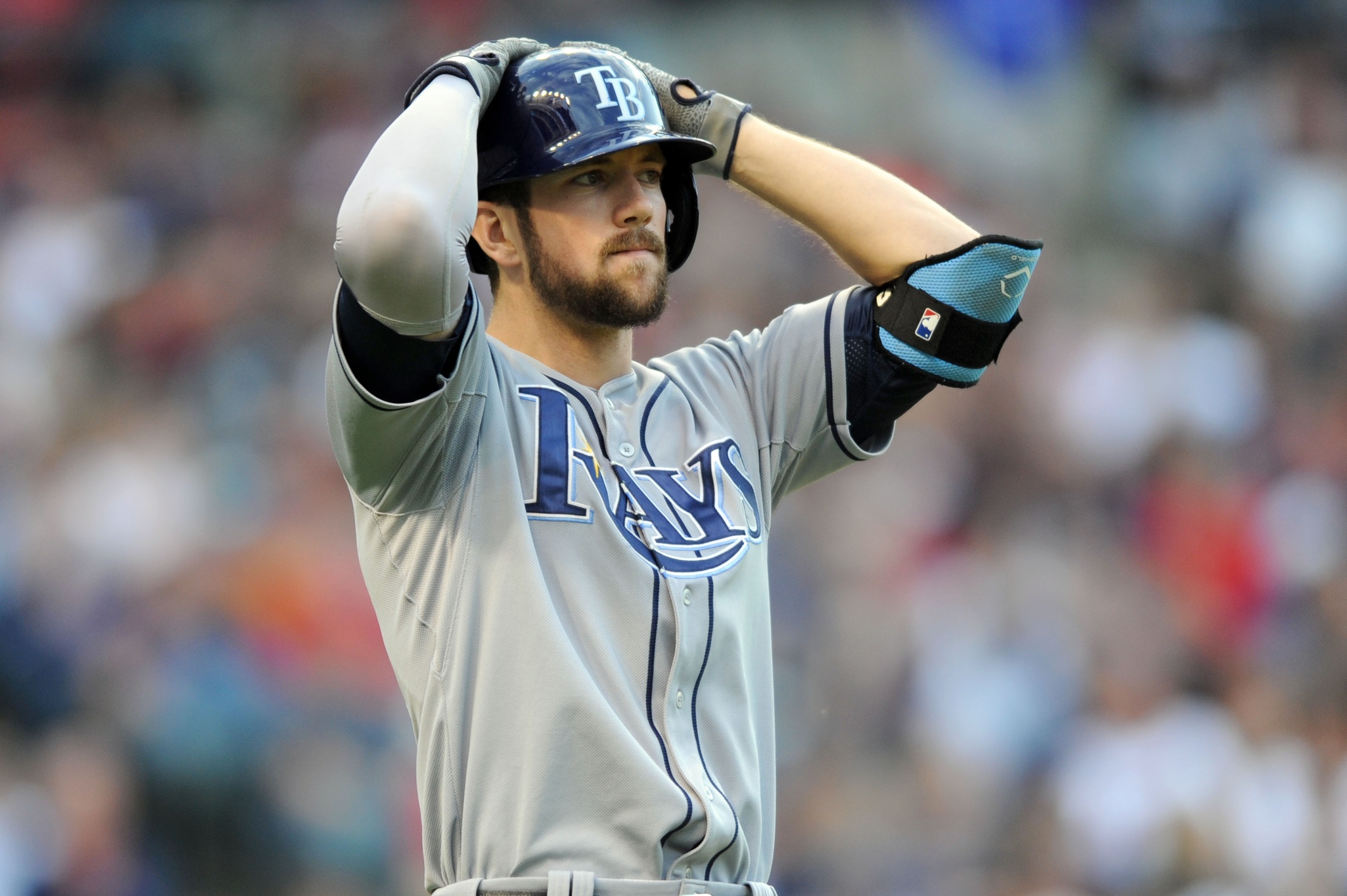 Steven Souza Jr. has hit nine home runs this year. But he should have more because he is doing something weird that it is keeping him from being one of the best home run hitters in all of Major League Baseball.
It is no secret that Souza can hit the ball a country mile. Remember the blast he hit in Toronto last year? That ball might still be going if not for the restaurant in center field at the Rogers Centre.
As I have said before, anybody in MLB can hit a home run. It can be a bit fluky at times *cough* Bartolo Colon *cough*. But there is nothing fluky about hitting a ball 450+ feet (the one above went 463 feet). To do that takes legit power and bat speed and there are not a lot of people in MLB who can hit a ball that far.
But Souza's power goes beyond that.
Souza leads all of MLB this season with a 33.3% HR/FB%. That is, for every 3 fly balls he hits, one is a home run. Here are the other players in the top 10. It is a who's who of MLB's best power hitters:
Steven Souza, TB — 33.3%
Chris Carter, MIL — 30.2%
Yoenis Cespedes, NYM — 28.3%
Giancarlo Stanton, MIA — 27.9%
Ryan Braun, MIL — 25.0%
Mark Trumbo, BAL — 25.0%
Byung-ho Park, MIN — 25.0%
Khris Davis, OAK — 24.5%
Justin Bour, MIA — 24.3%
Miguel Cabrera, DET — 22.9%
So why are there 26 hitters in MLB with more home runs than Souza's 9? Because Souza rarely hits fly balls.
Most sluggers hit fly balls 40-50% of the time. Souza does not. He is a groundball hitter. Here are Souza's batted ball rates this season:
Fly balls — 27.8%
Line drives — 24.7%
Groundballs — 47.4%
And that is not an anomaly for Souza. His groundball rate last year was 45.3%. The year before it was 50.0%.
Of the 41 hitters in baseball with at least 9 home runs, Souza is the only one who hits fly balls less than 30% of the time and 27 of those hitters hit balls in the air at least 40% of the time.
If Souza just raised the number of fly balls he hits up to 41.9%, the average of the other 40 hitters in MLB with at least 9 home runs, he would have 5 more home runs this season, giving him 14 . That would lead the AL and would be one behind the MLB leader, Cespedes.
Of course, hitting the ball on the ground is not the worst thing in the world if Souza was a good-contact hitter. But he's not. Check out his last 25 plate appearance: 7 hits, 10 strikeouts, 2 walks, 6 outs by fielders. Souza ranks 9th in MLB with 57 strikeouts. So not only is Souza not hitting a lot of fly balls when he makes contact, but he rarely makes contact, which means even fewer fly balls.
Souza is a slugging butterfly that just needs to break out of his cocoon.
So how do we get Souza to hit more fly balls? We'll leave that up to Derek Shelton. Wait. On second thought…
Likes

(

1

)
Dislikes

(

0

)