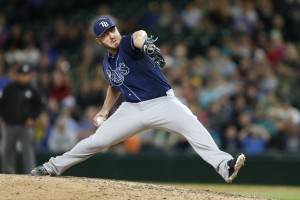 The Rays made one trade at the trade deadline in July, sending reliever Kevin Jepsen to the Twins for a pair of minor leaguers. Not exactly a blockbuster deal, but the move apparently had a lasting impression on some of the other players.
Marc Topkin of the Tampa Bay Times recently wrote about the bullpen struggles this year ("AL-high 22 blown saves … an MLB-most 34 losses and a 3.80 ERA that ranks ninth in the AL and would be their worst since 2009) and he dropped this little nugget:
"…people around the clubhouse say there was definitely an impact on the spirit and the chemistry after the Rays traded veteran reliever Kevin Jepsen at the July 31 deadline. And traded him (for two low-level minor-league pitchers) to a Twins team they were chasing in the wild-card race. While other teams were adding, there was a feeling among some around the Rays that management had given up."
Again, the trade was not a big deal in the grand scheme of trades and the Rays trading a peaking reliever for prospects is a typical Rays move. So, at the time, it didn't seem like a big deal.
But what most of us missed at the time was that the Rays were using the bullpen more than ever — the Rays' relievers lead the AL with 503.1 innings, trailing only the Diamondbacks and Rockies in the NL — and here they were trading away not only a key member of team fighting for a playoff spot and to a team they were competing with, but they were also trading away depth.
Now we look back at the comments made by Brad Boxberger last week about being overused, and while we can still roll our eyes at that, we can now start to at least see where some of the frustration comes from. Sure, the Rays could call up a reliever to take the missing innings, but the guy from triple-A is not taking over the important outs that Jepsen got. Those outs are going to go to the guys who already felt at the time that they were being overused.
And while nobody could have predicted that Jake McGee would be hurt a few weeks after the trade deadline, the other relievers can point to that and say the trade made this even worse and left them unprepared for something like an injury to a key player.
Say what you want about Joe Maddon and the genius of the front office and how the system works. None of this kind of stuff happened under the watch of Andrew Friedman and Maddon even in the rare seasons the team did struggle. There is still time for everybody to grow into their positions and learn from the mistakes, but they are off to a rough start.
Likes

(

6

)
Dislikes

(

0

)