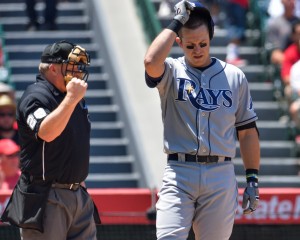 Ben Lindbergh of Grantland wonders what is up with Evan Longoria's lack of power. You can read the entire column here, but here are the highlights:
Longoria's non-power numbers haven't changed much while his power numbers are way down the last two years.
Specifically, most of Longoria's power decline has been to center field and right field.
He is no longer as disciplined at the plate as he used to be, swinging much more often, including pitches out of the strike zone.
There have been some subtle changes to Longoria's swing which suggest he is not using his lower body to generate power as much as he should be.
The first thing that always comes to mind when thinking about Longo's power outage are the accumulation of injuries, especially the hamstring injury, combined with an aging body that has played most of its career on turf and that Longo rarely takes a day off unless he is seriously injured.
But on the flip-side, the hamstring injury was in 2012 and Longoria hit 32 home runs in 2013. On top of that, Longoria is still only 29 years old. In other words, he should still be in his prime and not exhibiting the broken down decline usually reserved for players in their mid-30s.
So what's the answer? We can point to charts and videos and tables until our eyes bleed and none of that means much. A player who is 6-2, 220 pounds and is a proven big league hitter should be hitting more than 8.4% of his flyballs out of the park (in 2013 it was 15.7%). Bad hitters who are smaller than Longoria and have no idea how to use their legs hit more than 15 home runs, the number Longo is on pace to hit this year. That alone tells us that the problem is much more physical than it is mechanical and anything else is just Longo trying to compensate for either a specific ailment or an accumulation of injuries that he has not quite healed from yet.
Some players lose their power and never get it back and that should be worrisome. But at the same time Longo is still a very good hitter and a plus-defender. If that is all he is will be moving forward, the Rays could do a lot worse. But at the same time, as long as he is still a good hitter, there will always be hope that the power will return.
Likes

(

0

)
Dislikes

(

0

)