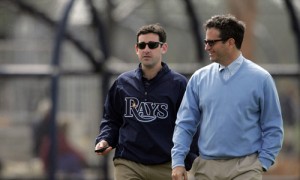 Before we get to the rest of the links, the Rays have announced that Chaim Bloom and Erik Neander have been promoted to Vice President, Baseball Operations thus presumably completing the front office shake-up following the departure of Andrew Friedman.
The most important aspect of these moves is that the Rays are trying to just go with the status quo and don't want anything to change. Most decisions in the front office were made following committee discussions and most of those voices are still with the team.
But there is one big difference that will be hard to replace.
When talking to other teams about potential deals, Friedman will no longer be on the phone and from everything we know, he was a master of negotiations.
Will Matt Silverman be able to replicate Friedman's never-flinch style? That is the most worrisome part of the front office shake-up.
Here are some other odds and ends.
The Rays have signed right-handed pitcher Michael Kohn to a big league contract and added him to the 40-man roster. Kohn was up and down with the Angels this past season posting a 3.04 ERA with 26 strikeouts in 23.2 innings at the big league level.
"[Andrew Friedman] also got out because, after six consecutive winning seasons, five of them of 90 wins or more, he saw how the Rays are going in the wrong direction, and his stock was never going to be higher…The Tampa Bay Rays can spin it any way they want, but Andrew Friedman's defection as their GM to the Dodgers was about a whole lot more than just tripling his salary and the opportunity to work with the biggest budget in baseball as opposed to one of the smallest. It was a concession of defeat, and no matter how everyone is spinning this one, Joe Maddon will be following Friedman out the door in St. Pete for the same reasons." [NY Daily News]
Marc Topkin speculates on which minor leaguers will be added to the 40-man roster in the coming weeks. [TampaBay.com]
"Andrew Friedman is going to do something that infuriates [Dodgers fans]" [Dodgers Digest]
Likes

(

0

)
Dislikes

(

0

)