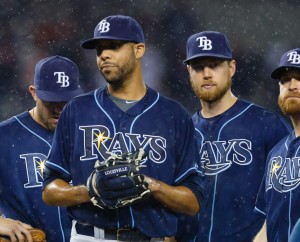 Earlier today we learned that Ben Zobrist is likely to be dealt if David Price is traded. Now comes word that they may both be dealt at the same time.
The Rays are currently in talks with the Seattle Mariners about a trade that would involve both Price and Zobrist according to Jon Morosi of FoxSports.com. Morosi adds that the Mariners have been attempting to acquire Marlon Byrd from the Phillies but that those talks have stalled.
Back in December, the Mariners were considered the favorites to land Price but a deal never materialized after several reports that the Mariners would not trade top pitching prospect Taijuan Walker.
Another stumbling point may have been that Price's agent flat-out said Price would not consider signing a long-term extension with the Mariners while he would with other unnamed clubs. Of course, the Mariners could just turn around and trade Price this winter, or next July after they make a couple of playoff runs, and recoup some of the lost prospects.
If the Mariners really do want both Price and Zobrist, Walker would almost certainly have to be the starting point in any deal. In addition to 1.5 years of Price, they would be getting 1.5 years of Zobrist at a very reasonable price ($7.5 million next season).
Likes

(

0

)
Dislikes

(

0

)