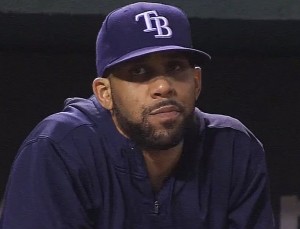 This was probably inevitable no matter where the Rays would have been in the standings. But with the Rays battling numerous injuries and struggling to a 16-22 start, there is already some in the media speculating that the Rays will soon be forced to trade David Price.
Jon Paul Morosi of FoxSports.com gets us started.
"But for the first time in years, it's time to ask serious questions about the near- to mid-term outlook of a model organization. Even in 2011, when they authored a comeback for the ages to overtake the Boston Red Sox on the season's final day, the Rays led the AL East with a 23-15 record at the 38-game mark. Now they're the second-worst team in the AL at 16-22 — ahead of only the Houston Astros. Barring a dramatic recovery, Rays officials may have little choice but to trade ace David Price and replenish a farm system that isn't as prospect-rich as it once was."
You would think the national media would have learned by now that the Rays ALWAYS have a choice and they NEVER trade players just because other feel they have to.
Remember when everybody assumed the Rays would trade Price this past winter, because they have to?
Yes, the Rays look bad and their outlook looks dim.
Yes, as Morosi points out, the farm system needs replenishing.
Yes, the Rays may be able to get more for selling 1.5 seasons of David Price than if they wait until the off-season (although this is certainly debatable as the number of teams bidding tends to be more in the winter).
But nobody is running away in the East and the Rays are just two decent weeks away from being in first place with their second ace (Alex Cobb) nearing his return to action.
Also, a major reason the farm system is depleted is because many of the Rays' top prospects in the majors (Jake Odorizzi and Chris Archer ring a bell?).
We posted this graphic at the beginning of the season. This shows the final season each player will be with the Rays if they are not traded, released, or receive a contract extension:
Where would you put a top prospect? The fact is, there is no pressing need for any prospects in the near future.
Trading Price will play out just like it does with every top veteran nearing free agency. The Rays will listen to offers no matter where they are in the standings. If somebody offers them a package the Rays like, they will take it.
If not, they will keep Price until the winter and start listening to offers all over again.
Likes

(

0

)
Dislikes

(

0

)