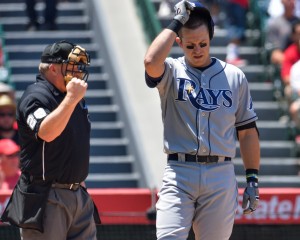 The GBT – The Good, The Bad and The Telling sandwich, where The Bad is nice and lean and the The Telling is ripe.
Angels 6, RAYS 2 (boxscore)
THE GOOD: Kevin Kiermaier. K2 played that game like he had absolutely no desire to get on that plane heading back to Durham. In addition to his amazing catch, which we posted yesterday, he also hit his first career home run. In a fair world, K2 would be on this roster for the rest of the season. But the fact is, the Rays have too many outfielders already and Brandon Guyer can't be demoted and has a right-handed bat that is more valuable at this point. But if Kiermaier can hit at all, he is going to have a long career as a decent big league outfielder…Brad Boxberger. After being put into a situation he never should have been in and giving up a walk-off home run to Mike Trout, Boxberger rebounded nicely this weekend with 2.1 scoreless innings with 2 strikeouts. A lot of young pitchers would have carried that loss over for a few appearances. Boxberger showed he was able to shake it off.
THE BAD: David Price. In his last 4 starts (27.2 ip) Price has 30 strikeouts and 1 walk. That is nuts. A 3:1 ratio is good. So, why is that "bad"? Because at some point you gotta start wondering if Price's pitches are in the strikezone too often. Things become a little easier when the batter can narrow down where the pitch is going and Price's pitches are going to be in the small area directly above the plate. For most batters that is not going to be much help because Price is still going to dominate them. But for hitters like Albert Pujols, that is like putting the ball on a tee.
THE TELLING: David DeJesus has played in the outfield once in last 24 games and hasn't played in the field at all in last 14 games…Ryan Hanigan says he is not going on the DL as he remains sidelined with a sore hamstring…
THE JUNKYARD DOGS WEBTOPIA…
The Rays continue to slide down the Power Rankings. [BI Sports]
Evan Longoria was pretty hard on himself after yesterday's game. This team's head is just in a bad place right now. [TampaBay.com]
David Price visited MLB's Urban Youth Academy in Compton. [MLB Video]
DOWN ON THE FARM [boxscores] Mike Montgomery gave up 2 runs in 6.1 innings, striking out 4 and walking 4. Wilson Betemit hit his 9th home run and Mikie Mahtook hit his first. Mahtook also stole his 7th base…Jeremy Moore's second home run accounted for Montgomery's only run…
Kevin Kiermaier also hit his first career home run.
Likes

(

0

)
Dislikes

(

0

)