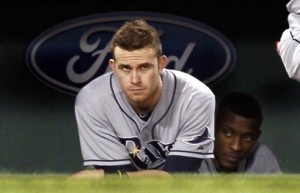 The GBT – The Good, The Bad and The Telling sandwich, where The Bad is nice and lean and the The Telling is ripe.
THE GOOD: BJ Upton. He wasn't benched, but he wasn't in the starting lineup. And while grabbing some pine, BJ managed to find another gear. Pinch-hitting in the 8th, Bossman legged out a triple on a ball hit to left field. Not an easy thing to do in Fenway.
THE BAD: James Shields. In the 5th inning of a tie game with 2 outs and David Ortiz due up, Joe Maddon visited James Shields on the mound. Certainly JoeMa reminded Shields that first base was open and not to give Big Papi anything good to hit. What Maddon didn't tell Shields to do was to groove a first-pitch, fastball right. down. the. middle. of. the. effin'. plate. And just like that the Red Sox were leading 3-0 and never looked back…Carl Crawford's Sore Arm. On Monday Joe Maddon indicated that there was only a 60-40 chance CC would even play and indicated that if he did play, it would be as the DH. Well, not only did he start, he was in left field. And when Crawford needed a strong throw home on a sac fly, it sure didn't look like his arm was 100%, as he short-armed it a bit and barely reached the cutoff from shallow left. Let's hope this isn't a lingering problem that eventually lands Crawford on the DL…Upton's Rep. The damage has been done. Even if Upton goes on to post all-star numbers the rest of the season, Evan Longoria will get all the credit. And that's too bad.
THE TELLING: The Rays are 9-12 in their last 21 games. Since May 23, the Red Sox have made up 9.5 games in the standings on the Rays…Pat Burrell hit his 5th home run in just 61 at bats for the Giants. He had 2 in 84 at bats with the Rays. In 70 plate appearances with the Giants, Burrell has been on base 29 times (.414 OBP). In 96 PAs with the Rays, he was on base a total of 28 times (.292)…
WHERE THEY STAND: The Rays are 44-32, 3 games behind the Yankees and 2 games behind the Red Sox in the Wild Card. After 76 games in 2008, the Rays were 45-31.
THE JUNKYARD DOGS WEBTOPIA…
DOWN ON THE FARM…
Check out Rays Prospects for boxscores and more detailed recaps. [Rays Prospects]
DURHAM: Virgil Vasquez, who broke both of his wrists during a moped accident, made his first start since April. He gave up 3 runs in 5 innings, striking out 4 and walking none…Aneury Rodriguez pitched 3 innings in his first relief appearance of the season…From the leadoff spot, Desmond Jennings went 2-5 with his first home run of the year. He also struck out 3 times…Dioner Navarro went 0-1 with 2 walks in his first start since being demoted.
MONTGOMERY: Jeremy Hall allowed just 1 run in 6 innings on 2 hits and a walk. He struck out 5, lowering his ERA to 3.01…Henry Wrigley went 2-4 with a double in his double-A debut.
CHARLOTTE: Joe Cruz pitched 7 shutout innings, striking out 7 and walking 3…Tim Beckham went 2-4 with a walk and Shawn O'Malley was 4-5 with a double and 2 triples.
BOWLING GREEN: Kirby Yates gave up 2 runs in 5 innings…Chris Murrill went 1-4 with a double and 2 runs scored…
HUDSON VALLEY: Julius Dettrich made his 3rd start and gave up 4 runs in just 3.1 innings…Burt Reynolds went 0-5 with 4 strikeouts.
PRINCETON: Braulio Lara picked up his first win with 6 shutout innings. He allowed just 3 hits and no walks while striking out 6…Leonardo Reginatto went 2-4 with 2 doubles.
Likes

(

0

)
Dislikes

(

0

)