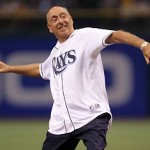 Dick Vitale, a long-time Rays season ticket holder, spends a lot of time on the Turf at the Trop and around the Rays. So when he comments on the personality of a player, we listen.
The following was a status update on Dickie V's Twitter account yesterday…
As a baseball fan would u trade BJ Upton? He has loads of potenial but in 3 plus years his numbers r horrible! Has speed n D but very moody
Strong words. Especially when you consider how often Vitale ever says anything negative about anybody (if you don't watch much college basketball, it is somewhere in the vicinity of never).
Likes

(

0

)
Dislikes

(

0

)