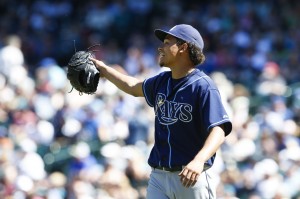 We are closing in on the trade deadline which means we are in the middle of baseball's silly season.
With the Rays out of the race and loaded with starting pitchers, seemingly every playoff contender is interested in trading for one of the Rays' young arms, and one name that keeps popping up is Chris Archer.
Buster Olney was on ESPN Radio Thursday morning discussing trade possibilities when Archer came up. Olney specifically noted that the Texas Rangers would love to trade for Archer.
According to Olney, the Rays are not telling teams that Archer is unavailable, but he noted there is a big catch: if teams want Archer, they better be prepared to pay for 2015 Chris Archer, not 2016 Chris Archer.
"I've heard [the Rangers] would love to pry Chris Archer away from Tampa Bay. But Tampa Bay has told people that, 'Look, we are not going to trade him unless we get a huge return. You have to treat him as if he is a Cy Young candidate again in terms of what you are [offering].'
We have already discussed why it almost certainly won't happen, but teams are getting desperate and now we are hearing that the Rays won't rule out trading their young ace.
I can't even begin to imagine what it might cost to trade for a Cy Young candidate who is being paid like a middle reliever for the next five years.
As we noted yesterday, one team that may be more desperate than most is the Los Angeles Dodgers. While Andrew Friedman is not one to overpay in a trade, it will be interesting to see if the ownership group has as much patience as their young president of baseball operations and if they force Friedman to overpay.
But even if a team wanted to overpay, would any team have enough to offer for somebody like Archer? The answer is probably somewhere between "No" and "HAHAHAHAHAHA."
Meanwhile, Jayson Stark was a little more realistic in a potential trade, saying that he thought the Rangers and Rays matched up well on a possible trade with maybe Matt Moore and Alex Colome going to the Rangers in return for young players.
Likes

(

0

)
Dislikes

(

0

)