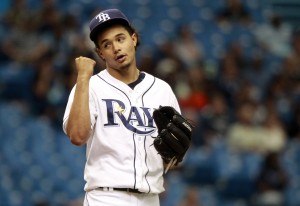 Ken Rosenthal had a segment Wednesday on the MLB Network in which he discussed a number of players that would be good "candidates for restructured contracts."
After going through a few of the obvious players, Rosenthal turned to Chris Archer.
This certainly piqued my interest. After all, Archer is already signed to a team-friendly contract that would pay Archer $45.5 million over eight years if all options are exercised. That deal would not expire until after the 2021 season when Archer would be 32 years old.
While the Rays did give Evan Longoria a new long-term contract in the middle of his original long-term deal, this seems much less likely with Archer. Since the Rays still have control over Archer for six more seasons and considering how most pitchers don't age well in their mid-30s, ripping up his current contract would be a bizarre move by Rays standards.
But just when we thought Rosenthal was going to drop some knowledge on us, he instead took a sharp left-hand turn sending us slamming up against the passenger window.
"He is not as established as [Chris] Sale yet," Rosenthal said. "At the same time, if he keeps performing the way he did last year, we're going to be looking at a guy that won't necessarily be a candidate for extension, given the team he plays for, but maybe a candidate, because of that great contract, to be traded."
Wait. What?
Somehow, in the middle of a segment on players who could get new contracts with their current teams, Archer is brought up as a trade candidate.
Holy apples and oranges, Batman.
OK, let's ignore the left hook for second. Would the Rays trade Archer? Sure. Nobody is untouchable on the Rays. But are the Rays going to trade Archer anytime in the next 3-4 years? Umm, NO. And I am not even being a homer. It would just be dumb baseball to trade one of the top young pitchers in baseball, one who is locked in at a reasonable salary for years to come.
Not even the San Diego Padres are that dumb.
Likes

(

3

)
Dislikes

(

0

)