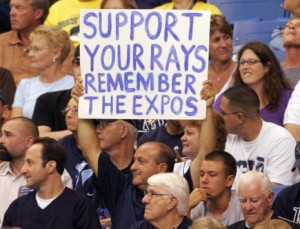 The Tampa Bay Rays have released a 1-page wishlist for what they want in a new stadium and it sounds amazing.
No, that's not true. Actually, we still have no idea what they want in a new stadium beyond what everybody already knew. Here are the details, via The Tampa Bay Times:
It must be a "next-generation" stadium for the "evolving fan." (translation: they want a stadium fans actually want to go to. Weird, right?)
The property must be at least 20 acres in size. (translation: they are not moving to Channelside, but we already knew that.)
The property needs to be "right-sized" for baseball geometry. (translation: you need land that will fit a stadium. Also weird. Wait. No it's not.)
Near business centers and retail shopping and dining. (translation: it needs to be like every other new stadium with other entertainment options. We knew this already.)
"The ability to structure a public-private partnership that would support the construction . . . is critical." (translation: the Rays are not paying for an entire stadium out of their own pocket. They want tax money, duh.)
The new stadium "will push the limits of ballpark design, re-imagine what it is like to experience a live baseball game and repackage it for generations to come." (translation: actually, I have no idea what this means. I mean, it sounds great, but what does this actually tell us about a potential new stadium? Nothing.)
I can just picture it now. Or not.
Likes

(

0

)
Dislikes

(

1

)