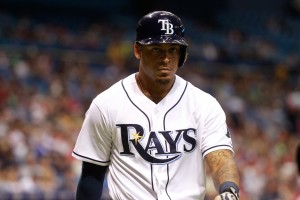 Sports Illustrated gave the Rays a D+ for their offseason moves and seemingly little chance of making the playoffs. Now comes Jon Paul Morosi of Fox Sports who has a completely different spin on the Rays' offseason moves — he likes what the Rays did, a lot.
Morosi was a guest on the MLB Network Radio and called the Rays his crush and makes the offense sound a lot better than most of us are giving the Rays credit for.
"My crush this week has been on the Rays," Morosi said. "I like them. I think the Rays have a chance to have a really, really good offense. You think about the amount of bats they have added since the season ended (host laughs), now, now, these are not major names, but [Corey] Dickerson, they'll get a healthy Jennings back they think. They add Brad Miller. Miller can hit. Defensively, obviously some questions, but he can hit. They add [Logan Morrison]. They add Steve Pearce. That's a good offensive club. Not a great one, but a good one."
Morosi then goes on to note that the offense can "potentially" be good, and when paired with the pitching, he says the Rays are a "very, very scary team in the American League East" and "a playoff team in 2016."
Of course, the key word there is "potentially." The Rays "potentially" have a great team every year. But they are also seemingly one injury, or one underperforming Evan Longoria, or one stroke of bad luck away from being mediocre.
While the Rays do have depth in the rotation, what they never have is depth on offense. Will that change this year? Are you confident that Longoria will have a big year with the bat (He hasn't had an .800 OPS season since 2013)? Are you confident that Jennings will finally have his breakout season (he has never played 140 games in a season)? Are you confident that Dickerson can produce away from Coors Field (.410 career home OBP vs .286 on the road)? Are you confident that Steven Souza will finally find some consistency (he never has)?
If you do have confidence in all those things, great. But what happens when any of those go astray, or worse, all of them? 75 wins happens and you start wondering if maybe the Astros had it right and the Rays should have tanked a few seasons instead.
Here is the segment from Morosi:
Likes

(

1

)
Dislikes

(

0

)