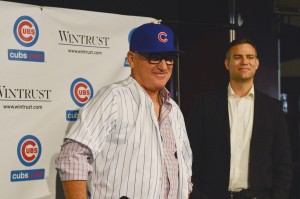 Joe Maddon was named National League Manager of the Year following his first season with the Chicago Cubs.
Maddon received 18 of the 30 first-place votes, easily out-pacing Mike Matheny of the Cardinals and Terry Collins of the Mets, the two managers who also received first-place votes.
This, of course, comes just a little over a year after a strange and bitter divorce led to Maddon opting out of his contract with the Rays and signing a huge contract with the Cubs.
While celebrating the award and his restaurant in Tampa, Maddon spoke with Marc Topkin about that move, calling it a "win-win-win situation for everybody," referring to himself, the Rays, and the Cubs.
"I think nine or 10 years in one gig someplace is probably plenty for both sides," Maddon told Topkin. "Both sides more than likely need to move on at that point."
Needless to say, that move angered a lot of Rays fans in the area. But what is interesting looking back now, is that fans had started to sour on Maddon even before the divorce. It is hard to point to one thing and there were always fans that did not care for Maddon. But in the final season it seemed like more and more fans had grown tired of the antics, the holier-than-thouness, the none-too-subtle digs at the area and the fan base, and what some perceived as a laissez faire attitude when the team struggled.
As they say, time heals all wounds. Has there been enough time to forgive Maddon? One informal poll suggests so.
Rick Stroud and Tom Jones on 620 WDAE asked their listeners about Maddon and the results seemed to suggest that most Rays fans are still pro-Maddon. You can listen to the segment here.
Likes

(

0

)
Dislikes

(

0

)