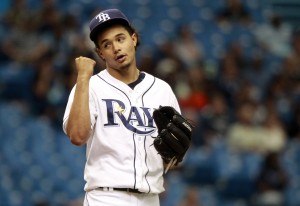 Thanks to some sort of VooDoo curse that Joe Maddon placed on the Rays this season, 17 different players have gone on the disabled list a total of 19 different times. The result is a very young and cheap active roster.
With 11 players currently on the DL, the Rays now have nine rookies on the roster. In addition, they have eight other players making at or near the MLB minimum salary ($500,000).
In fact, the Rays' 25-man active roster has a combined payroll of just $42.0 million, and that includes $11.0 million for Evan Longoria and $7.5 million for Asdrubal Cabrera.
To put that in perspective, $42.0 million is less than the Dodgers will pay Clayton Kershaw for the 2015 season and the first three months of the 2016 season ($46.0 million) and it is less than the Yankees will pay Mark Teixeira and CC Sabathia this season combined ($45.5 million).
Likes

(

3

)
Dislikes

(

0

)