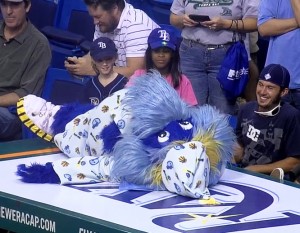 This weekend's relocated series against the Baltimore Orioles was a stripped down affair and they were played very quickly.
Some think the two are related. They are probably wrong.
Friday night's game against the Orioles was clocked in at 2 hours, 19 minutes, the fastest game for the Rays this season. In the entire 2014 season the Rays played just one faster game. The games on Saturday (2:33) and Sunday (2:44) were also among the eight fastest games the Rays played this season.
One thing all these games had in common (besides the opponent) is that the games were lacking of any in-game entertainment since the Orioles were footing the bill.
In theory, the entertainment shouldn't interfere the pace of play, especially with the new between-inning clocks. But Peter Gammons thinks these two things are related.
Average time of game in O's-Rays series over weekend:2:32. Tells us part of pace lagging baseball is clubs' "in game entertainment"

— Peter Gammons (@pgammo) May 4, 2015
There may be something to this, but there are also problems with it.
Of the Orioles' 20 games prior to these, they played five other games in 2:36 or faster. The Rays have played five other games in 2:33 or fast. In other words, both teams are no stranger to fast games.
In addition, the games featured a grand total of 12 runs. On top of that, the games featured some strong pitching performances with only 11 walks issued in the series by the two teams combined.
Fewer runs and fewer walks are a recipe for faster games, especially in the American League.
And then there are the Yankees and Red Sox. Those teams do very little in-game entertainment and yet their 3-game series over the weekend averaged 3:17.
Does the in-game entertainment, something older fans tend to hate, have an impact on game times? Who knows. Gammons isn't citing any data other than a hunch and three games that would have probably been fast even with the extra bells and whistles.
But hey, let's not let facts get in the way of a good story.
Likes

(

2

)
Dislikes

(

0

)