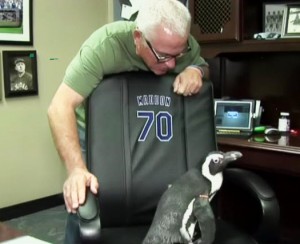 We have spoken at length around these parts about how losing Joe Maddon and Andrew Friedman may not mean much on the field. The Rays are a data-driven team with a clear idea of how they want to build a team and how they want that team to lineup and play on the field.
That is not likely to change much under Kevin Cash and Matt Silverman.
But the one area where thing will be a lot different is in the clubhouse and both Jayson Stark and Buster Olney feel the change was good for the Rays after spending time with the team.
Earlier this week on Buster Olney's "Baseball Tonight" podcast, the topic of losing Maddon came up and Stark's comments were eyebrow-raising (emphasis ours)…
"I thought this is a team that actually thinks that [losing Joe Maddon] might be a good thing," said Stark. "They loved Joe Maddon there. Joe had become not just the face of the franchise, but the voice of their franchise. But I think they are really excited by the opportunity to maybe do it a different way … Alex Cobb said something very interesting to me … they are looking forward to playing more normal baseball, you know. No more penguins in the clubhouse and witchdoctors roaming around trying to get them out of slumps. 'Let's do it the way other teams do it and see if that works.'"
Stark continued by saying "they are never going to be a quote-unquote normal team, but I just get the sense at times that they felt Joe was getting a little gimmicky and he was having a hard time topping himself. Maybe another team will find that more motivating than they were beginning to find it because let's face it, those gimmicks didn't get them out of their funk last year."
This is the classic idea that sometimes you need to get rid of a good coach or manager simply because their voice had become white noise to the players. But in this case, it was even more than that. Maddon's antics were getting old.
Olney referred to Maddon as a "celebrity manager" and compared him to Ozzie Guillen.
"The celebrity managers, it's just over time, I know players and you know players, it begins to grate on them a little bit at times," said Olney. "You start to hear, 'Well, is it about him? Is it about us?' and those things. And I felt like by the time Ozzie left the White Sox it was the right time, that they needed a change. And I agree with you just in talking with people. It just feels like now, it was a good time for Joe to leave."
I think Maddon did try to make the team about him at times, and that is not necessarily a bad thing. When things aren't going well, that can take pressure off the players. But at some point, things like parking a $300,000 RV outside The Trop smell like a look-at-me move just for the sake of making a look-at-me move.
And then there were things like the Joe Maddon gnome and the Joe Maddon glasses and the Joe Maddon Mr. Potato Head. Did anybody on the team have as many giveaways as Maddon? How many other managers in baseball would allow their team to turn their likeness into a Mr. Potato Head?
I know one that won't. His name is Kevin Cash.
Likes

(

4

)
Dislikes

(

0

)