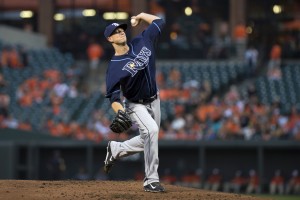 Last year we spent a lot of time talking about how the Rays prefer pitchers that throw their fastballs up in the strikezone and encourage their pitchers to do so.
For example, Drew Smyly was asked to throw more high fastballs after being acquired from the Tigers and the result was more flyballs.
We also saw how the result of the high fastballs is more flyballs which explains why the infield doesn't turn very many double-plays.
Now, Fangraphs has some more evidence, such as how David Price stopped throwing so many high fastballs when he went to the Tigers.
THE JUNKYARD DOGS WEBTOPIA…
The Rays worked out Cuban infielder Yoan Moncada but don't get too excited, there is almost zero chance the Rays will sign him. Even if the Rays could afford the price (believed to be in $30-40 million range) the Rays went way over their international signing limit last year to sign 16-year-old infielder Adrian Rondon, which means they are limited in what they can spend this year. [MLB.com]
Anybody want to read 2,000 words on the depth of the Rays organization? [USAToday]
It is a slow news week, so I guess I am obligated to point out that the Rays traded for a 25-year-old single-A catcher. He is not expected to be in spring training for the Rays which says a lot since the Rays typically invite about 50 catchers (*slight exaggeration) because so many pitchers are in camp and need gloves to throw to. [MLB.com]
Likes

(

0

)
Dislikes

(

0

)