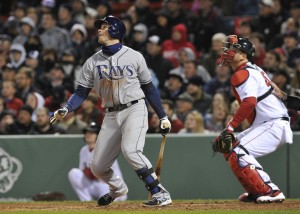 We have our second 2015 projection and this one is better than the last, with PECOTA projecting the Rays to win 86 games, tied for the Red Sox for the best team in the AL East.
We previously looked at Fangraphs, which has the Rays projected to win 83 games.
The difference between the two projections is that PECOTA is more bullish on the Rays' offense. Both projections have the Rays allowing 3.9 runs per game, however, Fangraphs has the Rays scoring 4.0 runs per game while PECOTA has the Rays scoring 4.2 runs per game, which would be an 11.2% increase over last year's anemic output (3.8 runs per game).
THE JUNKYARD DOGS WEBTOPIA…
Likes

(

0

)
Dislikes

(

0

)