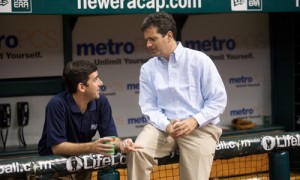 Matt Silverman did a Q&A with MLB.com. The most interesting part of the interview comes at the end where Silverman pretty much concedes what we have been saying around here, that the 2015 season is being sacrificed for the future.
Silverman was asked if he  has accomplished what he hoped so far this off-season:
There has been tremendous change, not only within our organization, but throughout our roster. We believe those changes benefit our organization. The results may not materialize immediately, but over the course of several years, we expect they will shine through.
Silverman does follow that up by saying his "expectation is that [they] will be playing meaningful games in September." But at the same time it sure sounds like he is prepping the fan base for what could end up being a season even worse than last year.
THE JUNKYARD DOGS WEBTOPIA…
The Nationals are not expected to go after Ben Zobrist as they view the price as "too high." Ken Rosenthal thinks they should reconsider. [FoxSports]
Evan Longoria donated a game-used bat for an auction. That bat was used to hit a home run off of Drew Smyly and Longo made sure Smyly knew that. [@SmylyD]
Shelley Duncan has been named the manager of a short-season minor league team in the Diamondbacks organization. [@Darren_Headrick]
Likes

(

0

)
Dislikes

(

0

)