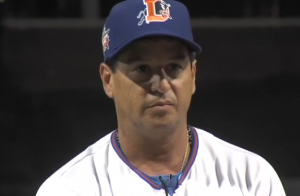 We discussed this over the weekend at our Facebook page, but now that Kevin Cash is the manager of the Rays, the next interesting question is who will be his bench coach.
In theory, you would like a guy with managerial experience since Cash has none. But you have to be careful. You don't want a guy with too big of a name because he could undermine Cash, even if unintentional. You just don't want a guy that some players will respect more.
One interesting name is Charlie Montoyo, the Durham Bulls manager who was also one of the initial candidates to replace Joe Maddon. Montoyo has lots of managerial experience, albeit in the minors, and he knows a lot of the players on the team.
Ultimately, this is the one spot on the coaching staff that Cash should have some say. But the Rays could also "assign" somebody like Montoyo for a year or two until Cash gets his feet wet and then let Cash choose to either keep Montoyo or pick his own guy.
THE JUNKYARD DOGS WEBTOPIA…
This week is the winter meetings in San Diego. Some early comments from Matt Silverman is that the team is "working to address" the backup catcher position and could add a veteran starter to fill in for Matt Moore until he returns.
Matt Silverman also says they are close to having a team they can take to Spring Training but are flexible and could still make some substantial changes. Silverman also discussed the payroll and how there is no target and there is some flexibility there also. [TampaBay.com]
Anybody want a "Devil Rays" casket for $2,500? Walmart has you covered. [Walmart]
Likes

(

0

)
Dislikes

(

0

)