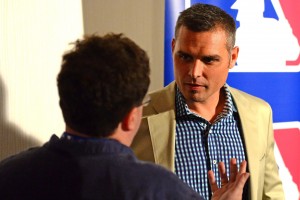 On Friday we took a look at how the 2015 Tampa Bay Rays roster is shaping up. There are still a few mysteries surrounding the roster but they are all linked to the biggest mystery of them all, how different Kevin Cash will be compared to Joe Maddon.
On the surface, that seems like a simple question. Cash is a much more no-nonsense personality. He is not going to do press conferences wearing a football helmet or bring penguins and salsa bands into the locker room.
So on the surface, it would seem that Cash would be a more conservative manager and do things like, name a closer and use a more set lineup with fewer platoons and nightly matchups. But what we don't know is how much of Maddon's constant tinkering was his doing or at least partially fueled by what the front office wanted Maddon to do.
Remember, the front office doesn't just collect players and leave the rest up to the manager. They also do the math on how best to maximize the production of those players. Certainly Cash will implement his own vision. But that vision is going to be guided by the numbers the front office provides.
So things will be different off the field. But things may not be that much different on the field and Cash will make more than $4 million less than Maddon this year to do it.
THE JUNKYARD DOGS WEBTOPIA…
Likes

(

0

)
Dislikes

(

0

)