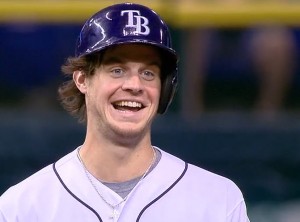 [Update] A trade with the San Diego Padres is "very close" according to Jeff Passan of Yahoo! Sports. Passan adds that there is "significant optimism" that the deal will get done.
Earlier we heard that catching prospect Austin Hedges could be part of the deal. Now Jon Heyman of CBS Sports says right-handed pitcher Burch Smith has been discussed. Burch was the Padres 8th-best prospect  according to Baseball America.
[Earlier] The Rays already traded one outfielder today and now it sounds like the Rays are willing to move another as they are talking to the Padres about a deal for Wil Myers according to Ken Rosenthal.
Rosenthal adds that it is not clear if a deal is close, but says the trade would involve "a number of players" including the Padres "better prospects."
Jim Bowden of ESPN reports that one name that has been discussed is Padres catching prospect Austin Hedges, the Padres top prospect at the start of the 2014 season. Baseball America called Hedges "one of the top catching prospects in the game."
Hedges is considered a top catcher defensively but has struggled with the bat. In 2014, Hedges hit just .225 with a .268 OBP and 6 home runs in 113 games. He is just 22, which is still very young for a catcher, so there is plenty of time to develop.
Likes

(

1

)
Dislikes

(

2

)