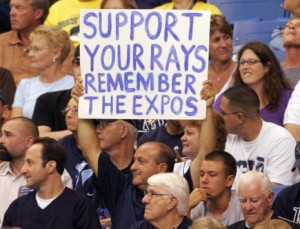 Earlier today we talked about the latest report linking the Rays to Montreal. But there was another small detail that most overlooked, something we have talked about here in the past.
If the Rays are going to stay in the Tampa Bay area, they need to have a new stadium approved by 2016.
Here is the relevant passage from the Montreal newspaper (translation via Shadow of the Stadium):
The Rays were clear in their trade with Montreal representatives: they want to do everything possible to ensure the future of the team in the long run in the Tampa Bay area . In this regard, two issues will be crucial over the next two years negotiating a future contract with the local TV ( the current contract ends after the season 2016) and the construction of a new stadium, preferably near the center -town Tampa Bay.
The key point here is that the Rays' current TV deal expires in 2016.
The next TV deal could be worth $80-100 million per year based on local TV ratings. But the value of that deal is going to go way down if there is no guarantee that the Rays are staying in the area.
While a new stadium will help attendance, it will also boost TV ratings both directly and indirectly. In addition to just being a better visual experience, there will also be the curiosity and pride factors that will bring more eyes to the TV broadcasts. Bigger crowds will also give the appearance that the team is more popular suggesting that watching the team is something everybody is doing and people at home should too.
In other words, when the Rays sit down to negotiate their next deal, something that is going to happen soon, the network(s) is going to want assurances that the team is staying and will have a new stadium in the very near future.
There is still time for the Rays to get a new stadium in the Bay Area, but the clock is ticking.
Likes

(

1

)
Dislikes

(

0

)