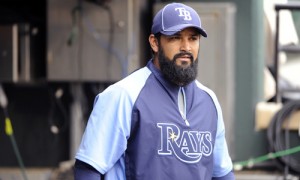 After the Rays narrowed their managerial search to three candidates on Friday, the biggest news to come out over the weekend is that Matt Silverman actually asked some of the veteran players for their opinion on who should be hired and according to Jim Bowden, they pushed for Dave Martinez.
To top it all off was the disrespect toward long-time Rays bench coach Dave Martinez. Several Rays players, including Evan Longoria and Alex Cobb, publicly and privately urged new Rays GM Matt Silverman to hire Martinez, citing that continuity would help them through the losses of manager Joe Maddon and GM Andrew Friedman going forward.
It is not clear what the motivation is here, but there are a lot of people in sports who will tell you that if the players are lobbying for somebody to be the coach or manager the team should hire somebody else. The feeling is that, consciously or subconsciously, the players will want the manager/coach who will be easier on them.
THE JUNKYARD DOGS WEBTOPIA…
Likes

(

0

)
Dislikes

(

0

)