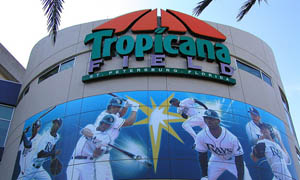 Ironically, Howard Megdal of USA Today, has a new column titled "Fixing Rays, World Series doesn't take a brain surgeon." While it may not take a brain surgeon it does take a better understanding of the situation than demonstrated by Megdal.
Megdal offers two potential solutions to the situation:
"One is a league-sponsored initiative to build a stadium, centrally, in Tampa/St.Pete. The other is to pay enough money to get the Rays out of their lease and move them to Montreal."
The first "solution" is not going to happen because owners are not in the business of giving up money that is going to do little to line their own pockets. It also ignores the fact that the Rays still do not have permission to build a stadium outside of St. Pete.
The second solution is not going to happen BECAUSE THERE IS NO LEASE TO BUY OUT.
As discussed many times, the Rays do not have a lease. They have a "use agreement" with the city of St. Pete. There is no buyout in the contract and it is far more complicated than just offering to pay whatever is left on the contract.
Based on the conversations I have had with several contract attorneys, the use agreement in essence creates a business partnership rather than a tenant-landlord relationship. That business partnership goes well beyond just the money paid by the Rays to the city for the use of Tropicana Field.
This is important because if the Rays try to break the contract, the city can potentially sue for millions beyond what is specifically owed in the contract, since the Rays would in theory also be hurting their business partner in other ways (e.g. revenue generated by the city by having an MLB team in downtown).
That doesn't mean the two sides can't negotiate a buyout. But there is little indication that the city of St. Pete has been willing to do that and nobody has any idea how much it would cost (a lot).
Who knows where this is going. But it doesn't take a brain surgeon to figure out it is a little more complicated than just buying out a non-existent lease.
Likes

(

0

)
Dislikes

(

0

)