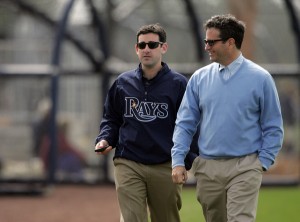 There is something surprising about the Tampa Bay Rays' search for a new manager.
No, it is not the surprising list of candidates, such as Raul Ibanez (still a player), Doug Glanville (no coaching experience), and Barry Larkin (coaching experience limited to exhibitions).
Those are outside-the-box decisions and there is nothing strange about the Rays thinking outside the box.
No, none of those candidates are as surprising as the Rays' decision to be completely public and transparent about their managerial search and that is completely uncharacteristic for the Rays.
Here is the graphic the team released to announce the addition of Larkin and Glanville to the list of candidates. The graphic feels like a promotional item akin to a bobblehead or a post-game concert schedule.
The Rays are typically the most secretive team in baseball, sharing information with only a very small circle of people, and that goes for everything from uniform moves to personnel decisions.
And yet, here are the Rays doing a complete-180 and are not only not hiding information but are actually being more open than most teams are during their own managerial searches.
Why? The Rays have always operated from the point-of-view of a Wall Street firm. Information is king and information is only valuable if you have it and they don't.
But the cost of secrecy in the sports world is the lack of self-promotion.
Maybe Matt Silverman is going to change the way the baseball side of the front office is run. Instead of keeping everything secret and dealing with some leaks, maybe the Rays will release information in a controlled manner.
By doing this, the Rays now control the information and at the same time, it keeps the team in the headlines.
Likes

(

1

)
Dislikes

(

0

)