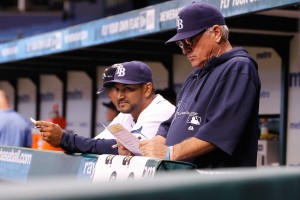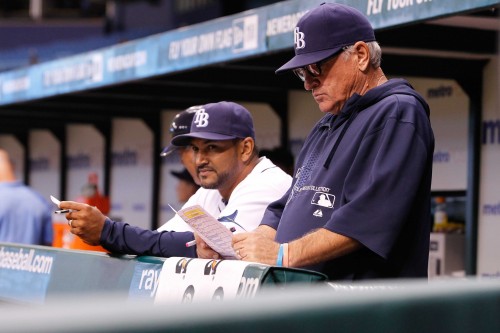 Kevin Cash, Raul Ibanez, and Don Wakamatsu are the three finalists to be the next manager of the Rays the team announced on Friday.
The one name not on the list that may surprise many Rays fans is bench coach Dave Martinez.
However, as we have mentioned before there were plenty of signs that the Rays wanted to move in another direction including the constant theme expressed by the team that they were looking for a fresh voice in the dugout. Martinez would have been just the opposite of that and would have instead been a vote for the status quo.
Matt Silverman emphasized that point after announcing the finalists.
"The decision on Dave Martinez was especially difficult," said Silverman. "He's played a key role in our organization's evolution, and he's done all he can to put himself in position to be a manager. In the end, we determined that our clubhouse would best benefit from a new voice that will add to our already strong and cohesive culture."
Of the three who did make the cut, Wakamatsu has been my favorite from the beginning and continues to be so.
When he was hired to be the manager of the Mariners many considered him to be "the next Joe Maddon" and he has experience managing a club that believes in pitching, defense, and sabermetrics.
This also means Martinez has gone from one of the hot managerial candidates in baseball to out of a job as the next manager will almost certainly want to pick his own bench coach.
Here is a quick bio on the three finalists via the Rays.
Likes

(

1

)
Dislikes

(

0

)