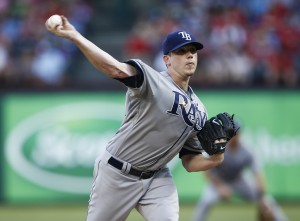 The GBT – The Good, The Bad and The Telling sandwich, where The Bad is nice and lean and the The Telling is ripe.
Rangers 13, RAYS 2 (14; boxscore)
THE GOOD: Jeremy Hellickson. Another strong outing for Hellboy with 6 shutout innings with 6 Ks and just 1 walk. These last 2 starts are as good as I ever remember Hellickson being. He actually looks, dare I say, dominant. Hellickson has the stuff to be a poor-man's Greg Maddux or a rich man's Andy Sonnanstine. For a while he was inching towards the latter. Now he looks like the former…Kevin Kiermaier. The Rangers TV broadcast had the best description ever of Outlaw's D when he threw out a potential go-ahead run out at the plate, "he charges the ball like a mad man." Later, he charged a soft liner and doubled-up a runner at first base to end the 10th inning.
THE BAD: Lights out. The offense came alive in the 6th inning with a pair of triples. But after Matt Joyce's triple+a throwing error run, the Rays went 3-28 over the next 7.1 innings with no walks…Joe West. I am not going to pound on West too much, because at least he was consistently bad for both teams. But good lord, is Joe West umpiring, or just his ego?
THE TELLING: There is speculation that the Rays will call up a reliever from Durham after last night's extended use of the bullpen…The Rays are now 58-61, 3.5 games behind the Yankees for third place in the East and 1.5 games behind Cleveland for 5th place…Saturday's game against the Yankees is a sellout and Sunday's game is close to being a sellout.
THE JUNKYARD DOGS WEBTOPIA…
Likes

(

0

)
Dislikes

(

0

)