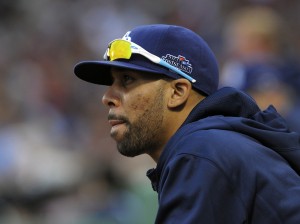 After the trade for David Price was announced, many people wondered why the Rays couldn't get a deal at least similar to what the Rays got for James Shields or Matt Garza.
Well it turns out there may have been one, but it looks like the Rays turned it down.
One of the teams that was briefly mentioned yesterday during the reports leading up to the deadline was the Pittsburgh Pirates. Well, according to Peter Gammons on the MLB Network, they made an offer to the Rays that included four prospects and was judged by many to have been better than the Tigers offer, at least talent-wise:
"Most people thought the Pirates offer, which was all about prospects and minor leaguers, might have been greater in terms of talent and that the Pirates were much closer to getting Price than we realize. But the way that the Rays look at it in Franklin and in Smyly, they get two current Major League players who are under control for a long time [and] cost efficient. They can step right in and play for [the Rays]. The kid shortstop is a tremendous talent and two years from now may be a really good player. So, in the end, having two Major League players come in the deal rather than four prospects, probably is a better deal than anything they could have gotten anywhere else."
The good news is this means that the Rays didn't just misplay their hand and end up being forced to take a lousy deal because nothing else was available. Rather, the Rays wanted big league players and players who can contribute now (in the case of Smyly) and in September and next season (in the case of Franklin).
This also means that the Rays are putting more emphasis on being good now and are less worried about "restocking the farm system" which so many think they need to do.
Likes

(

3

)
Dislikes

(

6

)