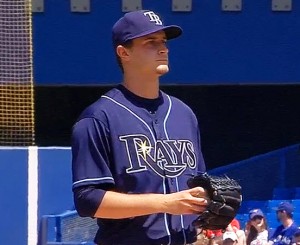 If there is one thing the Rays are known for it is starting pitching depth and this season that depth is being tested.
Here is a look at how the rotation will shake out in the near and not-so-near future:
Tonight: Jake Odorizzi (flu) or  Enny Romero if Odorizzi is still sick
Wednesday: David Price (possibly in his final season with the Rays)
Thursday: Erik Bedard (was a free agent who couldn't find a big league job 3 weeks ago)
Friday: Cesar Ramos (was a relief pitcher last week)
Saturday: Chris Archer
Sunday: Jake Odorizzi (hopefully)
And here are the injured starting pitchers:
Matt Moore (out one year, will have Tommy John Surgery)
Jeremy Hellickson (out until mid-May after elbow surgery)
Alex Cobb (out 4-6 weeks with oblique strain)
If the Rays do need another starting pitcher, the next two names would likely be Mike Montgomery and Nate Karns. Both are on the 40-man roster and both looked good in their most recent starts.
But that's not very encouraging.
Likes

(

0

)
Dislikes

(

0

)