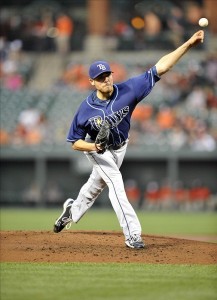 The GBT – The Good, The Bad and The Telling sandwich, where The Bad is nice and lean and the The Telling is ripe.
Royals 7, RAYS 3 (boxscore)
MATT MOORE UPDATE: The Rays have confirmed what we learned yesterday morning. That is, Matt Moore tore the UCL ligament in his throwing elbow and that it is unclear how severe the injury is. As of now, the questions are "is the tear complete?" and "how much of the damage is new, versus normal wear-and-tear?" Joe Maddon said surgery is "not a slam dunk right now."
THE TELLING: Jeff Beliveau was optioned back to Durham after the game. Speculation is that the Rays will call up a left-handed bat for the interleague series. Vince Belnome and Kevin Kiermaier are optons…The Rays have not yet decided if Erik Bedard or Cesar Ramos will start on Sunday.
THE JUNKYARD DOGS WEBTOPIA…
If you didn't get to watch yesterday's game: a) you're the lucky one; and b) here is the ridiculous catch Alcides Escobar made, robbing Yunel Escobar of a hit. [BI Sports]
Johnny Manziel will work out for the Bucs today. [JoeBucsFan]
MINORS [boxscores]: Enny Romero struck out 8 and walked 2 in 5.2 innings for Durham. He gave up 3 hits and just 1 unearned run. Justin Christian hit his second home run of the year. Jerry Sands had 2 more doubles, giving him 8 extra-base hits (6 doubles, 2 home runs) and 22 total bases in 7 games.
Likes

(

0

)
Dislikes

(

0

)