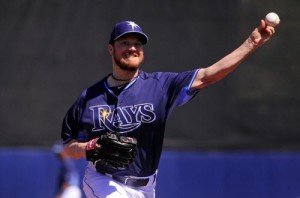 The biggest question mark for the Rays in spring training was supposed to be the battle for the final spot in the rotation. Chances are it was never a battle and the job has been Erik Bedard's from the beginning.
The latest piece of evidence is today's split-squad games. Bedard has drawn the more favorable start, at home, in Port Charlotte. Meanwhile Jake Odorizzi will have to travel to Bradenton to face the Pirates and Cesar Ramos will work in relief in the same game.
Of course, you could argue that Bedard's veteran status earned him the right to pitch at home and avoid an extra bus trip. But also consider the following:
The Rays never make decisions based on such a small sample unless they have no other choice.
The Rays know what Bedard is as a pitcher. As long as he shows that he is healthy and his velocity is consistent with what he has done the last year or two, the results of a few starts are not going to change what they already think of him.
Jake Odorizzi is in a state of transition.
Odorizzi is learning to throw Alex Cobb's split-finger changeup. This is not a pitch designed to complement other pitches by being used a handful of times each game. Rather, it is a weapon.
Cobb typically throws about 45% fastballs and 33% changeups. Odorizzi is more like 60% fastballs and 15% changeups.
In other words, this is the type of pitch that will change Odorizzi's pitching style completely. If he is going to throw the pitch that much, it needs to be perfected, and that is not going to happen in a 15-20 innings of spring training action.
Rather, the Rays would most likely prefer to keep Odorizzi in Durham for a while to keep working on the transition.
Cesar Ramos is more likely to be the backup option.
If Odorizzi was a serious candidate to be in the rotation, there would have been no need to prep Ramos for the possibility of starting.  Rather, it makes much more sense to say Ramos is a candidate if the Rays want Bedard to be the starter and they want Odorizzi in Durham.
If the Rays had only announced Bedard and Cobb as candidates for the rotation, and something happened to Bedard (e.g. velocity way down), the team would have been forced to either: a) push Odorizzi into the rotation earlier than they would prefer; or b) risk damaging his psyche by passing him up with somebody that wasn't a candidate.
Instead, the Rays stretch out Ramos a bit to be the backup plan.
Joe Maddon has consistently stated that he just wants his pitchers to work on things.
More so than in any previous spring training, Maddon has made it clear that he is not worried about results and has encouraged his pitchers to just work on things (e.g. new pitches). This suggests that Maddon already knows who his fifth starter will be.
The Rays always have a plan, but those plans are in pencil, never in stone.
The Rays knew at the beginning of spring training who they wanted to be the fifth starter. But there is no sense making that announcement until they absolutely have to.
While the Rays always have a plan, they also love to have options. This gives them flexibility in case something unexpected happens.
But if the regular season started today, Bedard would be on the roster and in the rotation.
Likes

(

0

)
Dislikes

(

0

)