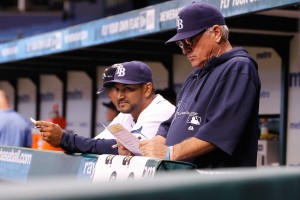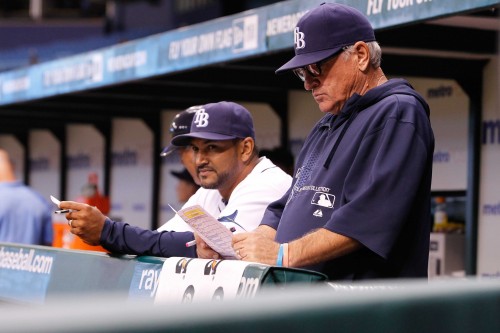 Here is an interesting observation made by Joel Sherman of the New York Post:
The Yankees did try to remedy [who will play which infield positions]. But they were outbid on Jhonny Peralta and Omar Infante, and tried hard to acquire Logan Forsythe from the Padres, who was instead dealt to Tampa. Which actually provides clues on the Yankees strategy — to mimic the Rays by having multiple players who can play several positions and having Joe Girardi deploy them to their best use in Joe Maddon-esque style. Girardi conceded this is what he expects to do, saying, "I will have to make more decisions in this camp how to use people than ever before."
In other words, the $200 million roster of the Yankees will be used a lot more like the Rays this season. The difference is, it is not by design and rather out of necessity, which for some reason seems kind of funny to me. When it is done by design you are more likely to have the right pieces and more likely to do it right. When you do something out of desperation, mistakes happen.
Odds and Ends…
Of the 40 pitchers and catchers, Juan Carlos Oviedo and Juan Sandoval are the only two yet to report. Both are dealing with visa issues.
David Price talks about why he believes he is still with the Rays (mainly the late signing of Masahiro Tanaka) and one executive still thinks a trade might happen. [ESPN]
Richard Justice takes a look at Joe Maddon's rules (all 2 of them) and how those lead to more discipline. [MLB]
Matt Moore returned to an old workout routine in order to rediscover his velocity. [TBO.com]
If you are into collectibles and figurines, here is an odd one. This company makes lego sports figures including mascots for some team. Well, for the Rays they used DJ Kitty and not Raymond. [oyo Sportstoys] Also interesting to note that the regular figures for the players use the Rays alternate powder blue jersey, except for a couple wearing spring training jerseys, and one (Ben Zobrist ) wearing an All-Star jersey. [oyo Sportstoys]
Here are some details on David Price's "Bowl For Kids' Sake" event. [TBO.com]
Evan Longoria recently gave a shout-out to an 8-year-old for her school project. [ABC Action News] Video story here. [YouTube]
More comparisons between Mike Glennon and Geno Smith. [JoeBucsFan]
Likes

(

0

)
Dislikes

(

0

)