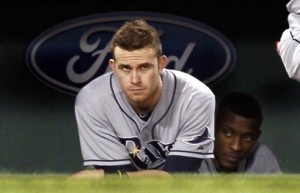 If you have been hanging around these parts for a while, you know that the model for this site is to tell you what the Rays have done, what they are doing and try to project what they will do based on what we have learned. Think of RI as "Tampa Bay Rays 101." However, for the next 12 days we will step away from the standard, and we present to you 12 "presents" the Tampa Bay Rays should give to their fans.
Without further ado…
On the seventh day of Raysmas, the Tampa Bay Rays gave to us, SEVEN GAMES WITH THE SAME LINEUP…
Quick. What was the most common batting order Joe Maddon used in 2012?
Desmond Jennings
Ben Zobrist
Carlos Pena
Evan Longoria
Luke Scott
Matt Joyce
BJ Upton
Jose Molina
Sean Rodriguez
Seems pretty basic for the Rays. And before the season, most of us were pretty excited about a most-days lineup that looked just like that. But even though that was the lineup Maddon used the most, he only used it three* times (3!). Of course, Maddon loves to play matchups. But even he would tell you he would love to have two set lineups (1 vs lefties, 1 vs righties). But thanks in small part to injuries, and in large part to inconsistent bats, Maddon was forced to use 151 different lineups in 162 games.
Maddon is never going to have the luxury of using just two lineups all season long. But if he can get back to using 3-4 lineups at least seven times each, it would be a good start towards finding some consistency offensively.
* There was actually one other lineup Maddon used three times (Jennings-Upton-Joyce-Longo-Zobrist-Keppinger-Pena-Roberts-Molina)
Likes

(

0

)
Dislikes

(

0

)