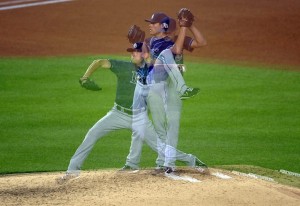 If you have been hanging around these parts for a while, you know that the model for this site is to tell you what the Rays have done, what they are doing and try to project what they will do based on what we have learned. Think of RI as "Tampa Bay Rays 101." However, for the next 12 days we will step away from the standard, and we present to you 12 "presents" the Tampa Bay Rays should give to their fans.
Without further ado…
On the fifth day of Raysmas, the Tampa Bay Rays gave to us, FIVE STARTING PITCHERS WITH AT LEAST 23 STARTS…
Here's a stat for you. In the last five seasons, when the five main starting pitchers make at least 23 starts, the Rays go to the playoffs. If any of those five fail to make 23 starts, the Rays do not play in October*.
As much as we like to talk about how the Rays still have eight big league caliber starting pitchers even after trading James Shields and Wade Davis, there are five guys we truly trust.
And in the end, it doesn't matter who the Blue Jays have added, or how much money the Yankees spend, or how much more mature the Orioles will be. If the Rays five main starting pitchers start 23-32 games, the Rays are going to win 85-90 games. And if the offense does anything at all, the Rays will win 90-95 games and be in the playoffs.
* Alex Cobb made 23 starts in 2012 as a "backup" starting pitcher.
Likes

(

0

)
Dislikes

(

0

)