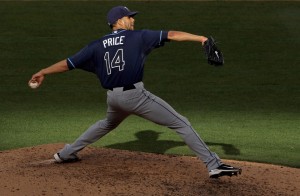 Do the Rays have to trade David Price? Dave Cameron at ESPN.com thinks so as he suggests the Rays trade Price and Tim Beckham to the Diamondbacks for Justin Upton and last year's first-round pick (#3 overall) Trevor Bauer…
As long as the Rays hold their payroll at a similar level, trading Price is an inevitability, as his increasing arbitration awards are going to price him out of their budget within the two years.
Let's ignore for a second that Upton is owed $38.5 million over the next three seasons, which is probably not much less than what Price, ONE OF THE BEST YOUNG LEFT-HANDED STARTING PITCHERS IN BASEBALL will make in arbitration. Rather, let's focus on the part where the Rays have to trade Price.
It's the standard Rays Ad Lib that the national media is always so fond of: "The Tampa Bay Rays must trade __________ because they can no longer afford him." Seems fair. As players get older they get more expensive and the Rays are working with one of baseball's smaller payrolls.
But when you read these, ask the national media this question: When was the last time Andrew Friedman traded a good player just because they could no longer afford him? The simple answer is never.
The Rays let expensive players walk as free agents (e.g. Carl Crawford). They trade players that are no longer worth their salary (e.g. Scott Kazmir). They trade players if they they have younger players that are just as good or even better (e.g. Edwin Jackson). And they'll trade a good player if another team makes an offer the Rays can't refuse (e.g. Matt Garza)*.
What they have never done is trade a player that is still productive just because he is expensive.
Yes, there is some cost uncertainty with Price who still has three years of arbitration left and unlikely to sign a long-term deal. But the Rays are pretty good with numbers. And if you are paying attention you can predict a player's arbitration salary fairly accurately, which means the Rays already have an idea of how to budget within those numbers.
This doesn't mean the Rays won't trade Price (or James Shields) as he gets more expensive. But unless a team is willing to pay the Rays' (very steep) asking price, they will be more than happy to keep Price in the family. And they will figure out how to save money elsewhere.
* Keep in mind, Matt Garza only made $6 million in the season after he was traded. The Rays could have easily kept him.
Likes

(

0

)
Dislikes

(

0

)