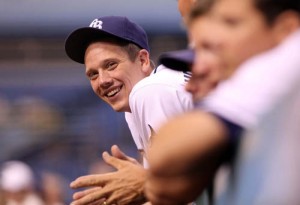 The GBT – The Good, The Bad and The Telling sandwich, where The Bad is nice and lean and the The Telling is ripe.
Tigers 5, RAYS 2 (boxscore)
THE GOOD: Brooks Conrad. Conrad had just 3 hits in 40 at bats with the Brewers this season. After 2 more hits last night, he already has 7 hits in his first 20 at bats with the Rays…The Trop. I am definitely among those that think the Rays need a new stadium. But that doesn't mean I don't like the Trop. And the last week has emphasized just how great it is. While most of the Florida State League was rained out for several days, and while the Rays played in triple-digits weather in Kansas City, the Trop was a comfy 72-degrees and dry last night.
THE BAD: James Shields. We noted last night how nasty James Shields' changeup looked early in the game. And he did get 7 swing-and-misses on that pitch. But his problem last night may have been his fastball. It was 93-94 early in the game. But by the middle innings, it was just 89-92. And in fact, in the middle innings, he almost completely abandoned the fastball and was throwing more sliders. It is good to give hitters a different look the 2nd and 3rd time through the order, but a good changeup pitcher still needs the threat of a fastball or the change becomes less affective. And Shields gave up several big hits on his changeup.
THE TELLING: Luke Scott was activated from the DL and batted cleanup…Desmond Jennings was back in the leadoff spot…Jeremy Hellickson will start tomorrow…The Rays are now 6.5 back of the Yankees and alone in 4th place of the East.
THE JUNKYARD DOGS WEBTOPIA…
DOWN ON THE FARM…
Syracuse 14, DURHAM 3. Jim Paduch gave up 12 runs (10 earned) in 5 innings…1B Henry Wrigley was 3-5 with his 7th home run in 40 games since being promoted…Tim Beckham was back at SS and had a double, but also committed his 7th error…Reid Brignac DH'd and had 2 hits.
MONTGOMERY 8, Jacksonville 3. Jacob Thompson gave up 3 runs, 2 on solo home runs, in 6.1 innings…SS Hak-Ju Lee had a double, a triple, and a walk. He now has a 9-game hitting streak and 4 straight multi-hit games. During his hitting streak, he is 17-43 (.395). He also has 3 walks during that stretch and 9 stolen bases in his last 10 games. His 27 steals leads the SL.
CHARLOTTE 7, Fort Myers 5. RF Mikie Mahtook was 1-3 with a walk…SS Derek Dietrich had 2 singles in 5 at bats.
Lansing 8, BOWLING GREEN 3. DH Drew Vettleson hit his 7th home run and added a single in 4 at bats. He also stole his 10th base…LF Josh Sale was 0-2 with a walk. He struck out twice.
HUDSON VALLEY 9, Staten Island 3. Jeff Ames, a first-round pick in 2011, allowed just 1 unearned run in 5 innings. He struck out 5 and walked 1. His ERA is now 1.29.
PRINCETON 9, Bristol 4. 1B John Alexander had 3 hits including a double and a walk.  He drove in 3…LF Granden Goetzman had a single, double, and 3 stolen bases.
Likes

(

0

)
Dislikes

(

0

)