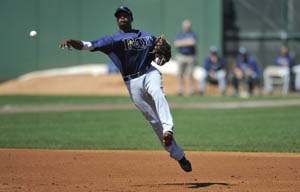 When Reid Brignac was demoted earlier this season, it raised an interesting question concerning two of the Rays' better prospects. With Tim Beckham playing shortstop at triple-A Durham, and Hak-Ju Lee playing shortstop at double-A Montgomery, would the Rays use the demotion of Brignac as an opportunity to move Beckham to second base, thus potentially clearing the path for Lee to be promoted one step closer to the big leagues?
But then an interesting thing happened. Beckham was suspended 50 games for testing positive for a banned substance (rumored to be marijuana). This postponed the Rays decision.
But this week, Beckham returned from his suspension. And sure enough, in two of his first four games back, he has started at second base, something he had never done before in his career.
So, in some respects, the suspension of Beckham may have been a blessing in disguise. It entrenched Brignac as the triple-A shortstop, opening the door for Lee to take that spot in 2013. And it gave the Rays nearly two months to work Beckham out at second base and prepare him for the position change.
And now the big question is answered: Who is the Rays' shortstop of the future? When the 2013 season starts, look for Beckham at second base and Lee at shortstop for triple-A Durham.
Likes

(

0

)
Dislikes

(

0

)