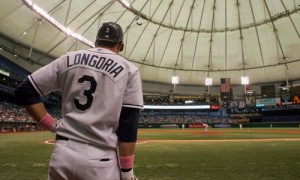 Evan Longoria was in Connecticut last Friday and made an appearance with Mike Francessa on WFAN.
Most of the interview (you can hear the interview at WFAN) was spent talking about Longo's role in the heroics of the final day of the regular season. But once they moved on, Longoria had a couple of interesting soundbites, including one in which he says the famous ticket giveaway at the end of the 2010 season was an apology to fans for comments he made a few days earlier.
On a side note, it is hard to criticize ESPN and the rest of the national media for not knowing where the Rays play if Longoria can't get it right either…
On whether it bothers him to play in front of small crowds…
I can't lie and say I haven't said [can you believe nobody is here?] once or twice…It's very tough. Because I did say one time. I think it was in 2010, we were making a playoff push towards the end of the season. And there was probably 12,000 fans in the seats on September 15th [Ed. note: It was actually Sept. 27, with 12,446 fans]. And we were about to get into the playoffs. I had to kinda eat my words and give out 20,000 free tickets the next day…My hope for the long run. I really enjoy playing in Tampa (sic). I mean, I love, the fans that do come are supportive. I just hope it doesn't get to the point where we don't have enough fans to financially support a team anymore…Everybody wants a new stadium. Everybody wants the team to be on the Tampa side, or wherever they want to build a new stadium. You need revenue for that. And that's what it comes down to. Are people coming? Or are they not?
On expectations for 2012…
We really don't have an excuse this year. We pretty much brought back most if not all of the team. Obviously Johnny [Damon] was a huge part of our ballclub last year. And Casey Kotchman was great for us too. But the pieces we have added are able to fill those shoes. We lost a ton of guys the year before. And if there was ever a rebuilding year, I guess you could have called last year a rebuilding year. But we kinda surprised everybody and ourselves again.
Likes

(

0

)
Dislikes

(

0

)