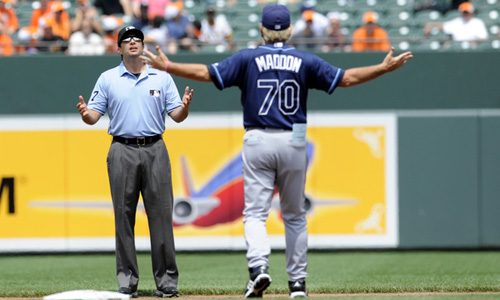 At the opening of the 2011 Winter Meetings, Joe Maddon met with the media and answered a number of questions. You can read the full transcript HERE. But if you want the Cliffs Notes version, you will find it below…
On who will play shortstop…
It's an open competition is what it is [between Sean Rodriguez and Reid Brignac]. I thought Sean did really well at the end of last year.  Sean probably exceeded our expectations what he's going to be able to do defensively.  Even as offense I think there's a lot of room for improvement there, too.  But Sean is a wonderful baseball player and that's why we love to have him on the field.  Reid one of the better young defenders, I think, at shortstop in the game.  Obviously did not have the offensive year that we were looking for, so he needs to really pick up there.  Again, talking to both of them, they're both aware that they'll be battling it out for that job in Spring Training.
On the bullpen…
You've got Kyle [Farnsworth] and Joel [Peralta] and then [Jake McGee and Brandon Gomes], I don't know exactly where J.P. sits right with everything that's going on, but I thought Gomer and Jake really came on strong…Jake and Brandon have very good makeup, they have very good makeup, and that's what permitted them to participate and play as well as they did towards the end of last season.  So I see them as being in the definitely in the middle of this whole thing, in the mix, going into next season.  I like them both individually as people and as players, but beyond that, you saw them good, but they're going to get better.
On using a six-man rotation…
We did that at the end of July, right after the All-Star break…we shifted into a six-man rotation to not overwhelm Price or Shields, but really building up some largeinnings, and it kind of worked.  I thought David and Shields and the whole group were kind of frisky at
the end of the year…I don't know if we would or when we would, but I think if you're going to, that's a pretty optimal time to try it especially if you have some guys building up some big innings…
On having his team show up later to the ballpark…
When we got to August, we had a really good road record, real bad home record, and that's not who we are…[One of the clubhouse guys] said to me, you don't show up as
early on the road.  I said, all right.  I wanted guys coming to the ballpark later in August…I really believe a lot of the stuff that's done prior to the game is overblown.  Batting practice is one of the most over-abused parts of pregame preparation, all the swings that hitters take in batting cages is ridiculous.  I think they get to the point where they make themselves tired.  So what we did is we backed off in light of our work.
On sacrificing offense for the sake of defense…
I'll tell you what, I don't want us to improve our offense at the sake of lessening or pitching to our defense.  That's who we are.  Our template indicates — if we play great defense and pitch well, we're going to win around 90-some games and have a shot at the playoffs.  Now, if we don't pitch well or play defense like that and hit, I don't know, 15 or 20 more home runs, I don't know if we're going to be able to prevent enough runs to overcome that slight uptake in the offense.  I would much rather that we be identified and continue to nurture being this defensive team with great pitching.  That to me is the one that permits us todo what we did last year.
On what he expects from Jose Molina…
I'm not sure, probably 80 plus hopefully…I think even if he's not starting a game, to maybe finish a game with him would also be a very nice thing to have in our back pocket, too…The impact he's going to have on the other catchers and the pitching staff I think will be significant.
On the other catchers…
[Robinson] Chirinos, the biggest things with him would be his release, getting rid of the ball more quickly.  He's a very good receiver and he blocks the ball well.  His offense was a little bit sporadic, so we'd like to see a little bit more of shortening of his swing.
Lobaton, we just need to have him stay healthy.  He was doing fine until he got hurt.  He
would have played a lot more had he not gotten hurt…Lobaton just continue to work on his offensive side and just stay healthy because defensively he was pretty good.
On Matt Moore…
We were playing in Baltimore, and I've never seen Matt throw, I've shaken his hand in the parking lot one time, and I didn't really even know what he looked like.  I hate to say this.  But he comes out of thebullpen in Baltimore, and I get back to the dugout quickly because I want to watch his warmups, hadn't seen him throw.  I got back there and I got
to see him warmup on the side, and I'm thinking to myself, my God, that is really significant, that's good stuff.  His delivery, his arm stroke, the way the ball comes — you hear this stuff all the time, the way the ball comes out of his hand is truly different.  You don't see it very often.
Likes

(

0

)
Dislikes

(

0

)