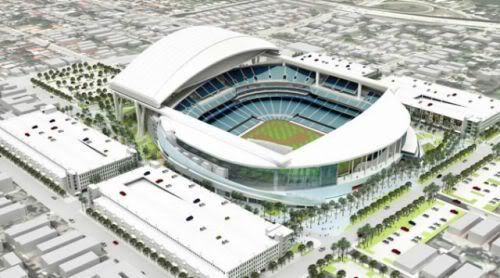 The Miami (neé Florida) Marlins will open their brand-spanking-new stadium next season, in all its retractable roof-glory, and tacky outfield home run sculptures. The project is estimated to have cost $515 million.
With the Tampa Bay Rays hoping to get their own new playground in the near future, or risk vaporization, the Tampa Chamber of Commerce recently calculated how much the city of Tampa could contribute (via Richard Danielson).
According to Richard Danielson, that number is $90-100 million. Danielson goes into details on where that money would come from, and he also emphasizes that "Tampa hasn't said it would put the money toward a stadium, only that it could."
Now consider that, back in 2007, when the Rays proposed the waterfront stadium, they were expected to contribute approximately $150 million to the cost. Let's say that number is $200 million now. That still leaves more than $200 million unaccounted for in the construction of a new baseball park.
Where would that money come from? The options appear to be either the state of Florida or private financing.
Of course, none of this matters if the city of St. Pete continues to hold the Rays to their contract.
Likes

(

0

)
Dislikes

(

0

)