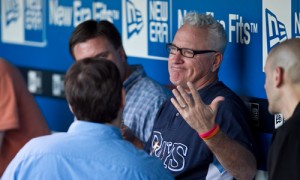 Joe Maddon is a great manager. He may occasionally do something that makes us go "huh-wha?" But most of the time he does things that just make us shake our head and smile in amazement. It is not just the smarts, and the originality, but it is the lack of fear.
He is a great tactical manager. And as we said previously, based on his job this season, they should just name the Manager of the Year award after Maddon.
But even better than his ability to manage a baseball team, is his ability to manage the players. There may be no better manager in the history of baseball that was able to keep players loose and playing hard as well as Maddon.
And this quote from the Orlando Sentinel (via BusinessInsider.com) is exactly why Maddon is so great…
"Coming into the season I remember saying, 'the demise of the Rays has been greatly exaggerated,'" Maddon said. "After a 1-8 start I looked like a fool. I understand that but I believed in our guys and I know what we're capable of…We went on our first road trip and I bought some really good whiskey on that airplane. Everybody got a little cup and I toasted to the best 1-8 team in major league history on that first plane ride."
Only Joe Maddon — *shaking head and smiling* — Only Joe Maddon
Likes

(

0

)
Dislikes

(

0

)