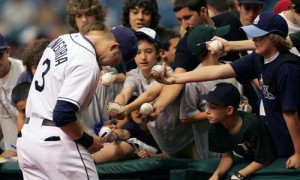 We really don't want to write this post and give this jackass any publicity. We want to give you guys a link to his trash even less. But we also want to give you a sense of what ballplayers have to deal with on a daily basis.
The post by this "guest columnist" is titled "Why Evan Longoria is a Jerk" (It should be noted that the original version of this column used a word different from "jerk." We don't know what that word was, but it was bad enough to be changed by the editors).
We probably should have just stopped there. After all, we knew exactly where this was headed. Another punk kid tried to get Longoria's autograph. And for what could have been one of a million reasons, Longoria didn't sign.
But we were curious as to how bad this could be that it would force somebody to write over 700 words on the subject.
Last week, I had a disappointing encounter, or lack thereof, with a certain ballplayer who I will from this day forward dislike, and root against, unless he does something worthy of changing my mind.
Hey Evan, if you send me a signed bat, I will forgive you bro!
I was at the Red Sox vs. Rays game at Fenway Park, and about 15 minutes before game time, Evan Longoria started signing autographs down the 3rd base line when he finished his pre-game stretching…There were about 30 people total trying to obtain an autograph from Longoria, and when I arrived, he had signed for about 10 already. Since it was such a small group of people, I was quickly able to get to the front, right next to Longoria. I didn't really need to move past anyone, as there was plenty of room available.
Look at how much effort I had to put forth to get close, man!

I was wearing a Devil Rays jersey and hat…I was the only person wearing Rays gear.
I mean, c'mon bro, I'm a Devil Rays fan (even though this "columnist" is wearing a Marlins cap in his profile picture).
Longoria continued to sign for fans, and didn't sign for me at first, despite the fact I was right next to him. I was looking at the fans he was signing for, and noticed they were all kids, so I just figured he would take care of them first, and then get around to me. No problem. Then he proceeded to sign for some adults, so I moved a few feet in the direction he was going, as the people he was signing for began to disperse…He then completed signing for all the people in that area, and walked about 15 feet towards the dugout, and began signing for the rest of the people that were asking for his autograph.
He signed for hundreds of people! (Or maybe it was 30 like the "columnist" said before).
He had still not signed for me, and was intentionally ignoring me at this point. I followed back to where he was signing, and he continued signing walking in the direction of the dugout. He then got to a point where he realized he had signed for everyone, and there was no one left asking for his autograph, so he simply walked away.
He ignored me. ME! And nobody was asking for his autograph. Can you believe he walked away?
He intentionally ignored my request.
He had it out for me. For realz, bro!
I am not a loud, obnoxious, or outrageous fan in any way. I simply asked for his autograph just like any other fan would. I simply said "Evan, could you please sign for me?" I didn't try and shove my baseball in his face; I just held it there with my pen open, with my arm slightly extended. I did not do anything out of the ordinary.
*cough* BULLSHIT *cough*
But for some reason, Evan Longoria decided he was blatantly not going to sign for me. Maybe he didn't like my inaugural season Devil Rays jersey. Maybe he didn't like the fact I have facial piercings. Maybe he didn't like the sound of my voice. Or maybe he just didn't like the way I looked.
Evan Longoria hates me! He hates people who have strange styles! (This kid has obviously never seen Longoria's hair, or how he dresses when not in uniform. Dirtbag is not going to judge other people based on their appearance.)
Regardless of his reason, I felt it was very rude and uncalled for to single someone out and specifically not provide that person with the same exact service you are willing to provide everyone else.
Yes, it was so rude of Longoria to go out of his way to sign 30-some autographs for the 120th time this season.
Especially when that person appears to be a fan of your team! How dare you disrespect someone who supports you!
"Appears" being the important word here. Because obviously the other 30 fans attending a Rays game and asking for Longoria's autograph couldn't possibly be actual Rays fans *rolls eyes*. C'mon dude. Maybe Evan thought he had already signed something for you. Maybe there is another side to your "I'm such a victim story." But you gotta come up with a better reason than "he didn't like the way I looked, what a d*ck!" Do you realize how much of an idiot you sound like?
Well, just for that, I will now go out of my way to root against Evan Longoria. The same way he went out of his way to show me his true colors…Evan, I wish you could read this so I could tell you that you define the word "Jerk". Have fun sitting on your couch in October.
Actually, my guess is that while this columnist is sitting on his couch, Evan will have fun hanging out with attractive women in October and is not going to lose any sleep over this.
Next time somebody speaks with Longo, thank him for not signing for this jackass.
Likes

(

0

)
Dislikes

(

1

)