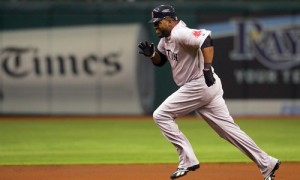 The Rays have made up 5 games on the Red Sox in less than a week. So needless to say there is some panic amongst those in Red Sox Nation. But what we didn't expect was for there to be panic in the Red Sox dugout.
But that is exactly what David Ortiz says is going on…
"Hell, yeah, you've got to panic," David Ortiz said.
While his teammates didn't use words quite as strong, they sure don't sound anymore confident. Dustin Pedroia sounded like a guy that is worried the Red Sox will miss the playoffs…
"We've just got to play better…I'm not really concerned. If we play good, we'll win. We're a pretty damned good team. We've just hit a tough patch…Because if we don't, we're going to home…That's basically it. If we don't play well, we go home."
Meanwhile, the Red Sox own Regional Sports Network, NESN, doesn't exactly sound like they have a whole lot of confidence in the Red Sox ability to hold off the Rays.
Tony Lee of NESN.com feels that the Rays don't catch the Red Sox, it won't be because the Red Sox are the better team, but rather, it will be because the Yankees will still be playing hard down the stretch.
On a side note, that picture above of Big Papi "running" just looks painful.
Likes

(

0

)
Dislikes

(

0

)