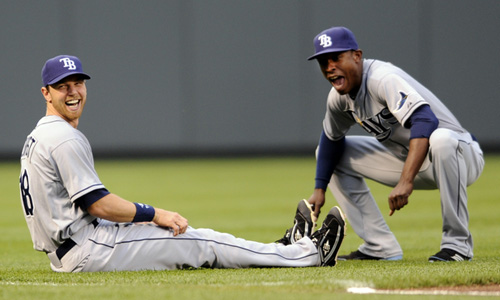 Would the Rays non-tender BJ Upton? In short, um, no. But that is exactly what some "rival executives" think the Rays might do if Upton is still with the Rays this off-season, according to Buster Olney.
…some rival executives think that Upton will be a borderline non-tender candidate this winter, given his hitting trend line. Upton's year-by-year batting average: .300, .273, .241, .237, .223 (current).
In short, Upton is once again arbitration-eligible this winter, and will command a 2012 salary of $6-8 million. The Rays could "non-tender" Upton, which just means they would release Upton rather than pay the salary, making Upton a free agent a year early.
This idea is also borderline idiotic.
The thinking behind

these "rival executives" is that the Rays wouldn't be able to trade Upton.
Even if the Rays can't get top-dollar for Upton, they should be able to get something. And even if that is just some low-level prospects (he will command more than that), that is more than nothing, which is what these "rival executives" think the Rays will be willing to accept.
Hey, we love Buster Olney, but c'mon, this doesn't even make sense.
Likes

(

0

)
Dislikes

(

0

)