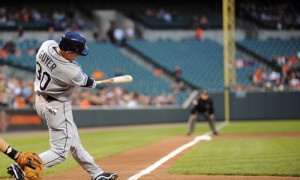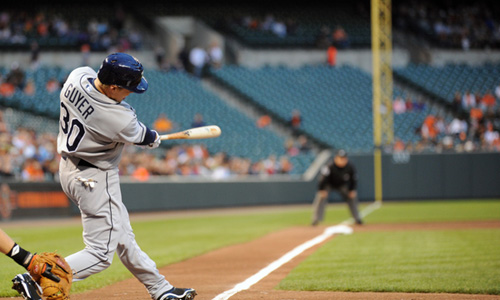 We have heard a lot about other teams scouting BJ Upton as a possible trade target. Now it turns out the Rays are doing a little scouting of their own…
Scouts covering the International League report that the Rays have their own people bearing down on their most advanced outfield prospects, Desmond Jennings and Brandon Guyer, both of whom have played all three outfield positions for Triple-A Durham — "just to get a better read on who would be the replacement if they do trade B.J.," said one of those scouts.
All along, most have assumed that Desmond Jennings was Upton's heir-apparent in center field. But this suggests that Jennings is no lock to get the call should the Rays move Bossman.
Remember, when the Rays needed an outfielder for a couple of days earlier this season, they went with Brandon Guyer, and not Jennings.
Here is a head-to-head comparison of how each has performed in triple-A this season…
It is hard to argue, but Guyer has been the better hitter this season. And he even has just one fewer stolen bases, despite 50 fewer plate appearances.
Of course, where Jennings has the advantage is defensively. Guyer has played center field for the Bulls this season. But if Guyer gets the call, it would seem more likely that Justin Ruggiano or Sam Fuld would become the most-days center fielder.
And what happens to Jennings if Guyer does become Upton's replacement? It might be time to start wondering if Jennings has a future with this franchise at all. And that is quite a long ways to fall in a very short period of time.
Likes

(

0

)
Dislikes

(

0

)