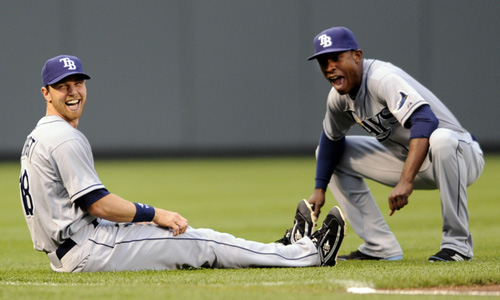 Like Buster Olney and Ken Rosenthal, Jayson Stark has sources that think it is unlikely that the Rays trade BJ Upton during the season. And like the others, Stark makes it clear that the Rays could be swayed to change their minds.
But unlike the previous reports, we now know that the Rays aren't interested in at least two of the pieces the Nationals are shopping…
Are the Rays likely to trade B.J. Upton this summer? That would be no, according to clubs that have spoken with them. But the Nationals have sent in multiple scouts to watch Upton all season just in case. And while they're not the only team interested, the one thing Washington would appear to have going for it on the surface is its surplus of catchers — a position Tampa Bay has ranked as one of its biggest long-term needs…But here's where that scenario breaks down: The Rays wouldn't even think about building a deal around the two catchers Washington is dangling — Pudge Rodriguez and Jesus Flores. And the Nationals have made their catcher of the present and future, Wilson Ramos, all but untouchable…So if there's a deal there to be made, it would have to include much bigger, more compelling names than the ones that have surfaced so far. But the Nationals (and others) are clearly interested. So stay tuned.
Wait! The Rays aren't going to trade Upton for Jesus Flores (you can't tell right now, but we are doing our best sarcastic Home Alone impersonation).
But we do love knowing that the Natinals (spelling error is intentional) are not the only team interested. More teams means higher bids, means better chance a deal gets done.
Likes

(

0

)
Dislikes

(

0

)